Drs Zammtti and Carvalho, Orthodontists
Professional orthodontic care in Boston area
It is obvious that orthodontics treatment is very important for a good health and attractive look. To stay healthy and have a nice smile you should visit a professional orthodontist. And if you are looking for specialists in orthodontics for children and adults in Boston area then Drs. Zammitti and Carvalho are your best choice. Our highly professional specialists offer different kinds of orthodontic treatment at reasonable prices (special financial plans are offered to make payments more affordable). Our orthodontists have graduated from Harvard School of Dental Medicine and you can be sure that all procedures will be done perfectly.
Orthodontic treatment can be used only for cosmetic reason but usually it is used to correct patient's bite. Orthodontics is oriented on dental displacement and there are several methods used these days. Probably the most well known kind of orthodontic treatment is the use of braces. And of course Marlboro orthodontics specialists - Drs. Zammitti and Carvalho - offer that type of treatment. Of course if you want regular braces in Newton specialists will install them but these days there are many much nicer ways of getting perfect smile. One of them is called Clear braces. Usually these are white ceramic braces that can be hardly seen in your mouth. So if you want to get clear or invisible braces in Newton you should visit Northboro orthodontics specialists Drs. Zammitti and Carvalho.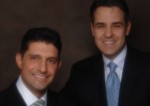 Another way of improving your bite is to use of Invisalign. It is a new and popular way of straightening teeth with invisible aligners. And of course this type of treatment is also available so if you need Invisalign in Marlborough or Invisalign in Northborough just contact Dr. Zammitti and Dr. Carvalho.
Different payment plans are available.
Free consultation including x-ray is offered.
Most of the major insurances are accepted.
Our staff, comfortable office environment make any Marlboro or Northboro orthodontics treatment much easier and pleasant for patients.
Address and Phone Number
For additional information about us and our services visit Drs Zammtti and Carvalho, Orthodontists.
---